Introducing the Number1
The entertainment lighting industry didn't need yet another USB DMX interface. It needed a Number1.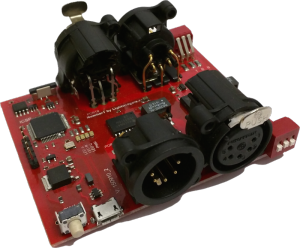 The Number1 is the first hardware running Open Lighting Embedded (OLE) and designed specifically for use with the Open Lighting Architecture™ (OLA).  Number1 is ideal for those wanting to control DMX/RDM devices from OLA or people wanting to test RDM equipment.
For information on how to use the Number1, see the OLE User Manual.
Hardware Features:
One bidirectional DMX512 ports supporting Remote Device Management (RDM, E1.20). Dual port hardware (pictured) is available on request*.
DMX512 Ports are galvanically isolated to 2500V.
EMI and Surge Protection on the USB Port.
DMX512 ports have user-selectable RDM Biasing and Termination
Timing subsystem allows the measurement and analysis of RDM and DMX512 signals.
Reprogrammable via USB using DFU, or directly using ICSP
USB port is OTG ready, for future applications.
Power LED and three customizable status LEDs
Onboard temperature sensor
Software Features, Controller Mode
Can be combined with a host running OLA and used as a DMX/RDM controller.
Provides RDM Response Timing accurate to 1/5th of a microsecond. Timing parameters include:

Response Delay
Break Time
Mark Time

Designed for use with the RDM Responder Tests. Validates both RDM data & signal timing.
Software Features, Responder Mode
Simulates many different types of RDM devices including:

Moving Light
LED driver
RDM Proxy, which will ACK_TIMER all requests to child devices
A sensor only device (DMX footprint of 0)
A dimmer, with sub-devices & status messages.

Supports all RDM PIDs from E1.20, E1.37-1 and E1.37-2 standards.
Configurable RDM response delay, with an option to introduce jitter
Identify and Mute status LED indicators
Software Features, General
USB Serial Port Logging (requires Mac OS 10.7 and above or Linux).
Support for Linux & Mac.
*Software support for multiple ports is not completed yet. See Issue #251.